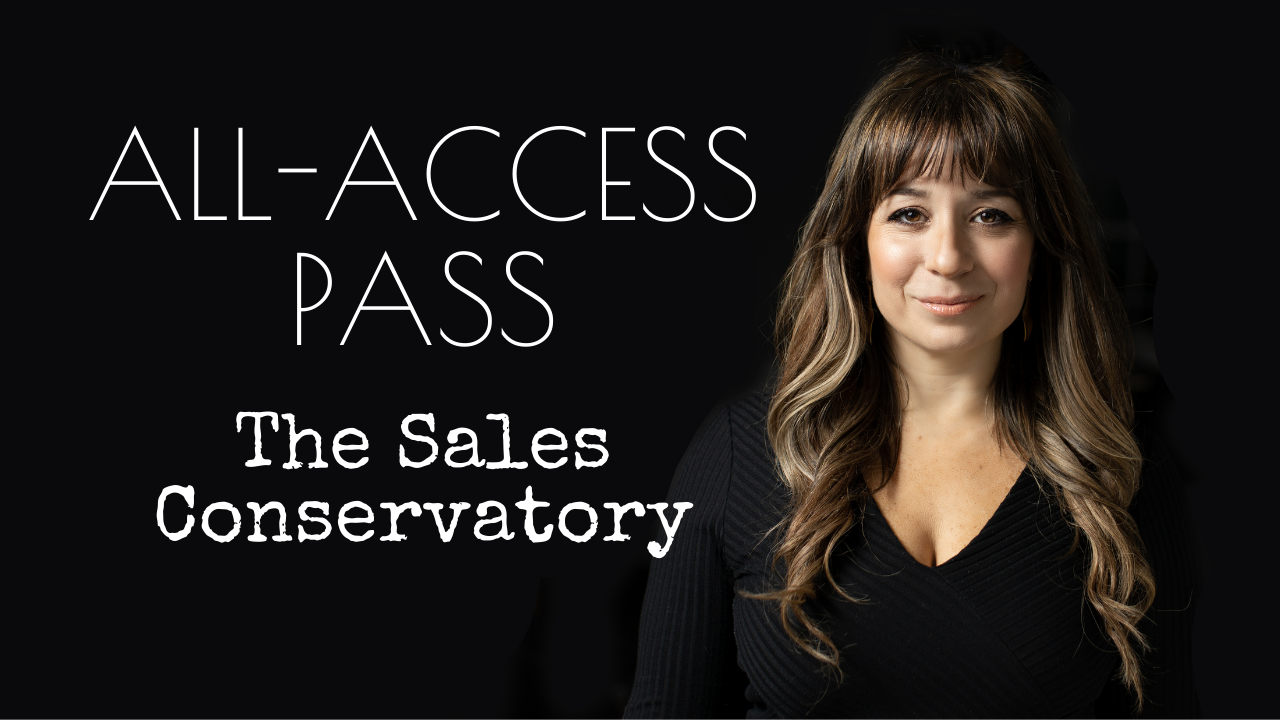 Welcome to The Sales Conservatory All-Access Pass!
What if sales didn't feel like throwing darts at a hazy target the morning after your bachelorette party? 🎯
What if selling was easy and effortless and you made sales most of the time instead of some of the time?
What if you had more leads than you could handle and had to start building a team to sell for you?
What if you could say "good-bye" to sales resistence forever? Perhaps.... possibly... even fall in love with sales?
Before you know it, all your wildest sales fantasies would come true and you'd be on Entrepreneur's list of "100 Startups to Watch" and Gary Vaynerchuck would be reaching out to you for interviews to find the secret behind your success... 🌈
It'd be pretty sweet, right?

But...
🙁 You stink at sales.
🙁 You don't like bothering people to buy your stuff.
🙁 You're just starting out and can't afford a sales guru like "Jessica Magoch" to help you out??
That's why, for a limited time, I am opening my Sales Conservatory up to startups and sales people for a deeply reduced, DIY rate:
Inside you'll find everything you need to know to DIY your own 9 figure sales team. From establishing your target market, your brand messaging, getting inside your client's head, sales psychology, developing your step-by-step sales playbook, or training manual, identifying, interviewing, and evaluating reps, and developing sales compensation plans.
Plus, you'll get a library of 13 sMarketing Strategies to overflow your pipeline with prospects so you never have to worry about where your next sale is coming from!
Don't reduce sales to a "numbers game."
Sending out thousands of emails hoping someone will respond or pitching people over LinkedIn will drive you (and your prospects) crazy!
The courses in this program will take you step-by-step through developing a predictable strategy and scripting a sales presentation that closes deals most of the time.
Just like learning the scales and chords to make beautiful music, you can learn the step-by-step strategy to sell predictably and with ease (without being aggressive or salesy)
Here's how I recommend going through the training:

Download your Sales Playbook Templates
Watch Sales Foundations & Download or Print the Launch Book to take notes and complete the exercises. - This will create the foundation for an unstoppable sales strategy so you can nail your messaging.
Watch The 8 Step Closing Code and script your sales playbook with the assignments included. Create sample videos for your salespeople of live or re-enacted sales presentations. Use the infographics and cheat sheets in your template to visualize the sales process for your reps.
Scan through the 13 sMarketing Strategies. Plan to tackle one strategy per month as you build a massive pipeline. Document your work so you can share the strategies with your salespeople in your sales playbook.
Watch the Sales Compensation Planning Workshop - Develop your sales compensation plan with the calculator and advice provided.
Read the Sales Recruiting Playbook and accompanying videos. Create your recruiting message and interview process as well as evaluation rubric.
If you're not familiar with my story or my strategy, please take a moment to preview the lectures below so you can get a high-level view of what we'll be covering.
You're a great fit if:

✅ Your product or service is market-tested and ready to sell
✅ You're a startup Entrepreneur, Head of Sales or CRO OR you're a full-time inside or outside salesperson working in traditional industries selling products and/or services
✅ You sell a B2B product or service or High-ticket services direct to consumer (no distributors, manufacturers, channel partners)

✅ You're a D-I-Yer - You can manage yourself and your time and complete the program without me breathing down your back :-) (of course, you have access for life, but if you don't actually take it at some point it will not help you at all )
✅ You are ready, willing, and able to CHANGE. Transformation in your business and your results requires change and action. You are ready to change, you want to change, and you will put the advice into immediate action.
This isn't a good fit if..
⛔️ You're in auto, real estate, retail, eCommerce, consumer goods, wholesale, channel partner sales, pharma, MLM
⛔️ You're looking for quick-fix copy/paste templates
⛔️ You're unwilling to dedicate 2-3 hours per week to improve your prospecting
⛔️ You sell ow-ticket products, widgets, or gadgets and other transactional sales
Pricing
Pricing at this reduced rate is per user. Honor policy. Thanks!
Satisfaction Guarantee:
If for any reason at all you are not satisfied, you are eligible for a full refund within 30 days of purchase. Just email [email protected]
If you'd like more support and would like to know how we can work together to create these tools for you or design a custom training program for your team, please schedule a call at jpmpartners.com/schedule
There is nothing like this on the market that breaks down every little step of building, training, and leading a team. We're so proud to have you be a part of it!
So excited for you!
Jessica